Thank You for your purchase with Mountain Dog Diet.
Your order is currently being processed and should arrive in your email inbox within the next 30 minutes
(please check your junk folder if you do not see a download message from us).
*If, for some reason, you do not receive it, e-mail [email protected] and we will resolve the issue.
If you want to take your knowledge to the next level, consider signing up for a Mountain Dog Membership.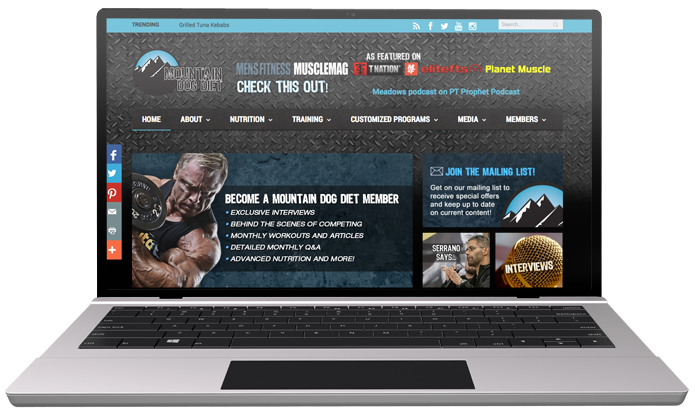 For much less than the cost of a 5 Guys Burger and Fries meal, you will be able to see exactly how I prepare national and professional level competitors.
You will also get the perfect blend of training and science in my advanced nutrition and article of interest section. It's not all about PubMed studies, and it's not all about what worked for me, it's about useful information we can all use!
You will also get access to a monster Q&A Forum, and get to read interviews I am doing with the leading experts in the industry.
Oh, and you might enjoy sampling some of my exact workouts, too, if you are trying to decide whether my training style is right for you.
For those of you that have less than two years experience training or if you simply want to refresh your knowledge around basic training and nutrition principles, we have a ton of content for all levels.
We also feature case studies in this section to provide you step-by-step instructions on how we've helped other people obtain their goals.
Also, since you just purchased one of our products, we are offering a FREE 30-Day Trial Membership to the Mountain Dog Diet site (see below). Please be aware that after the 30 days, the Membership will auto-bill your PayPal account for the regular price unless you cancel it.
*Mountain Dog Membership does not include access to the Mountain Dog Training App, which may be purchased separately here: http://mountaindog.duethealth.com/web*